About us
Since first opening our doors in 2017, BRED Bank Cambodia has offered our clients the highest international standards while delivering a uniquely Cambodian banking experience.

We provide our growing customer base with a smarter way to bank – tailoring the broad range of our products and services to each business or individual's unique needs.

BRED Bank, the first and only EU bank in Cambodia, is a wholly-owned subsidiary of the French banking group, BRED Banque Populaire, which has operations across Europe and an expanding global network. BRED Banque Populaire is part of BCPE, one of France's largest banking groups with 36 million customers worldwide. Together, they bring customers more than 100 years of banking experience.
Smarter services
Our banking services are available 24/7 through our online banking portal, dedicated Android/iOS apps and ATMs. During opening hours you can also visit us in person at our growing network of branches or call our friendly Call Centre staff.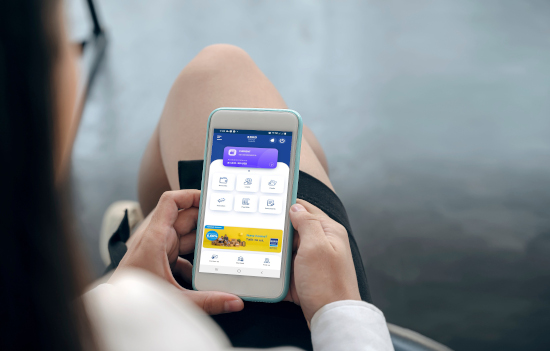 The highest in global standards
BRED Bank delivers the gold standard for banking operations in the Kingdom, catering to small and medium enterprises (SMEs), corporate clients, and Cambodia's emerging middle class.

Besides following local banking regulations set by the National Bank of Cambodia, we offer customers the added protection of regulations set by the European Commission's European Banking Committee, and as a wholly-owned subsidiary of BRED Banque Populaire, an A1/A+ rating.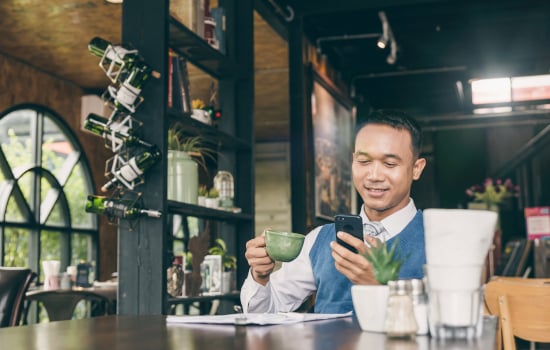 Local legacy and success in Cambodia
While BRED Bank brings a European legacy to the Kingdom, we are Cambodian at our core. The majority of our employees are Cambodian and 90% of our current portfolio is also local.

From an original group of 30 employees who helped to launch BRED Bank in 2017, we have expanded to a staff of more than 250 across nine locations in Phnom Penh, Siem Reap and Battambang.

Within the next two to three years, we intend to expand to at least 15 to 20 branches with BRED Bank represented in most Cambodian cities.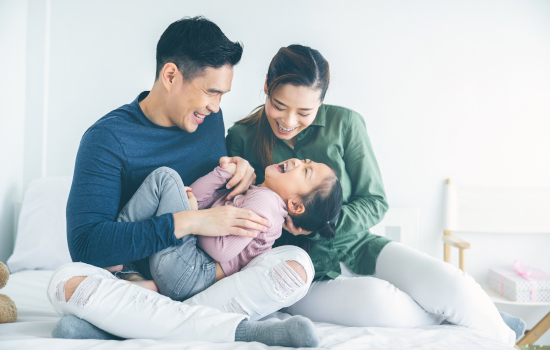 Understanding our customer needs
At BRED Bank Cambodia, we're defined by our personal relationship with customers. Our team of Relationship Managers is already the best in its class in Cambodia's banking community. They understand the unique needs of every client, the challenges they face and where they have room for financial growth.

We build our client understanding first before matching the best financial products to their needs. At the same time we ensure they're fully aware of the terms and conditions of their financial products - there are never any hidden fees or surprising fine print embedded in our products.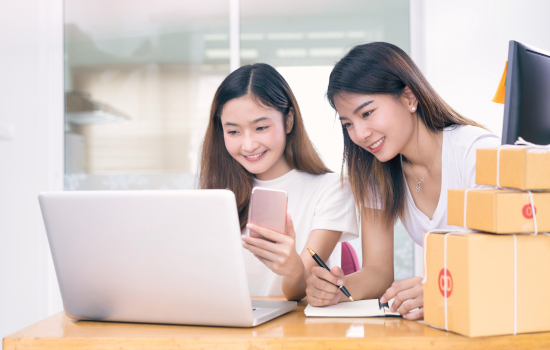 Our banking portfolio
BRED Bank has welcomed more than 7,800 clients to our banking family in just three years while deposits and loans have doubled year-on-year over the same period.

We cater to both retail customers through our E-banking platform, branch and ATM network while our business division works with a range of businesses, from small and medium enterprises to large local corporates and multinational companies.

BRED Bank knows customers are drawn to our high protection under European banking regulations and financial products, which are custom tailored to the needs of our retail and business clients.

For Small and Medium Enterprises (SMEs), their needs are often for a capital injection loan that will allow them to expand business operations, while larger clients may require more sophisticated services like trade financing and foreign exchange.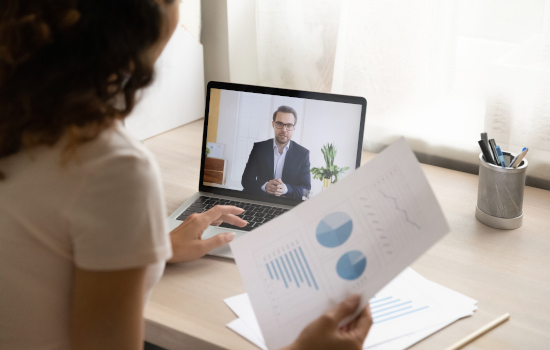 BRED Group backs Cambodia: Bank set for growth as owners reaffirm commitment to the Kingdom
Date Published: Aug 18, 2021
Read More
Come work with us
Would you like to contribute to BRED's expansion in Cambodia with your knowledge and skills?

BRED Bank Cambodia welcomes people who are committed to delivering outstanding services and making the future happen. Sounds like you? Have a look at our current job offers and apply for your dream job!

An international working environment with many opportunities for personal development and attractive benefits awaits you including health and accident insurance, training and development, exclusive staff loans, paid paternity and maternity leave, free VISA card, access to a 24-hour fitness space at HQ and much more!
Latest promotions for BRED Bank customers
8% OFF at Agoda
Use your BRED Bank VISA card to book your stay at any worldwide hotel at agoda.com and enjoy 8% OFF.

Valid until 31/12/21. Terms and conditions apply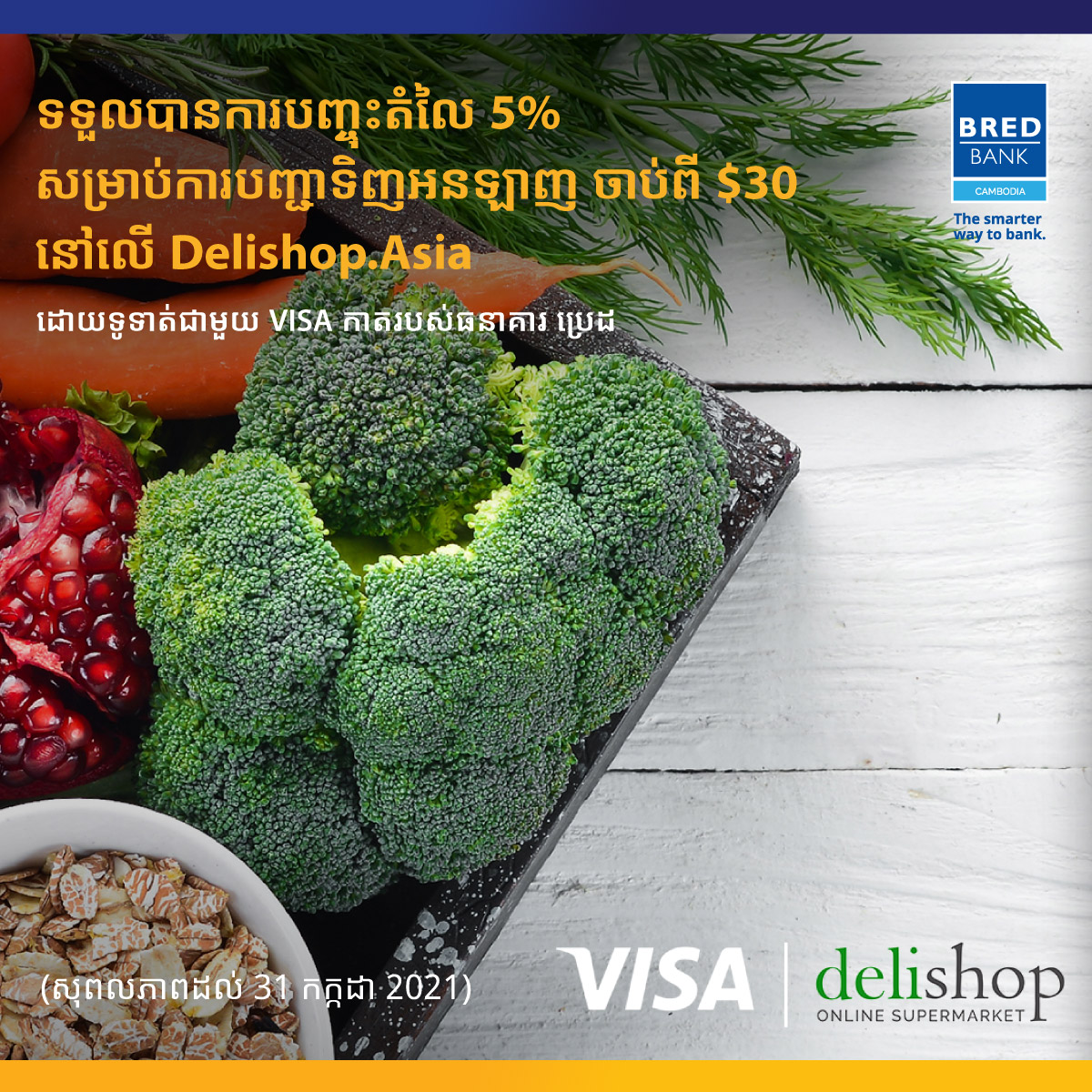 5% OFF at Delishop
Shop from the safety of your home and enjoy 5% OFF when you use your BRED Bank VISA card on orders over $30.

Valid until 31/7/21. Terms and conditions apply.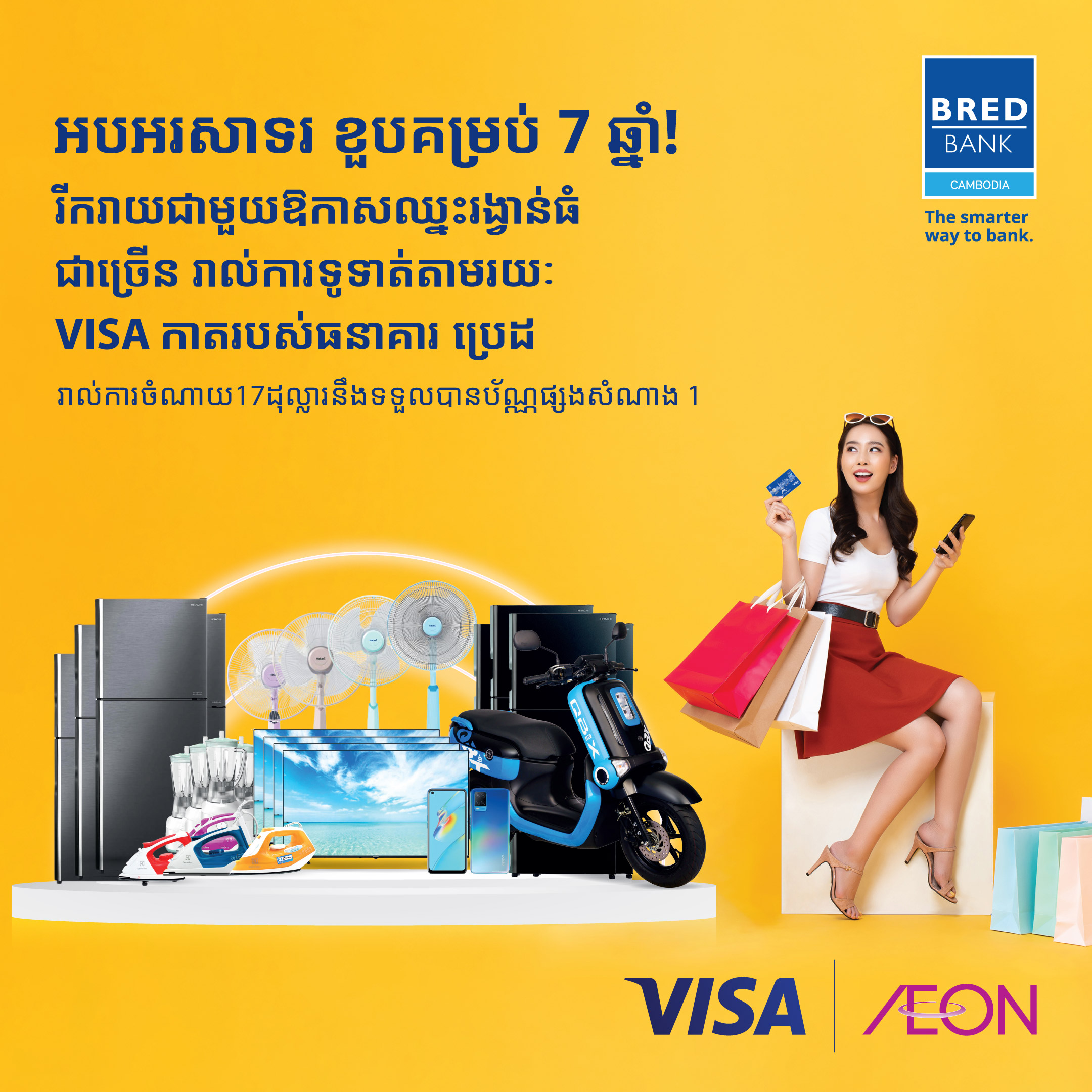 7th Anniversary of Aeon Mall
To celebrate the 7th anniversary with Aeon Cambodia, we're excited to bring you many grand prizes draw. You could win one of our great prizes when you spend a minimum of $17 at AEON MALL Phnom Penh, AEON MALL Sen Sok City and AEON Cambodia Online using your BRED Bank VISA.

Valid until 01/08/21. Terms and conditions apply.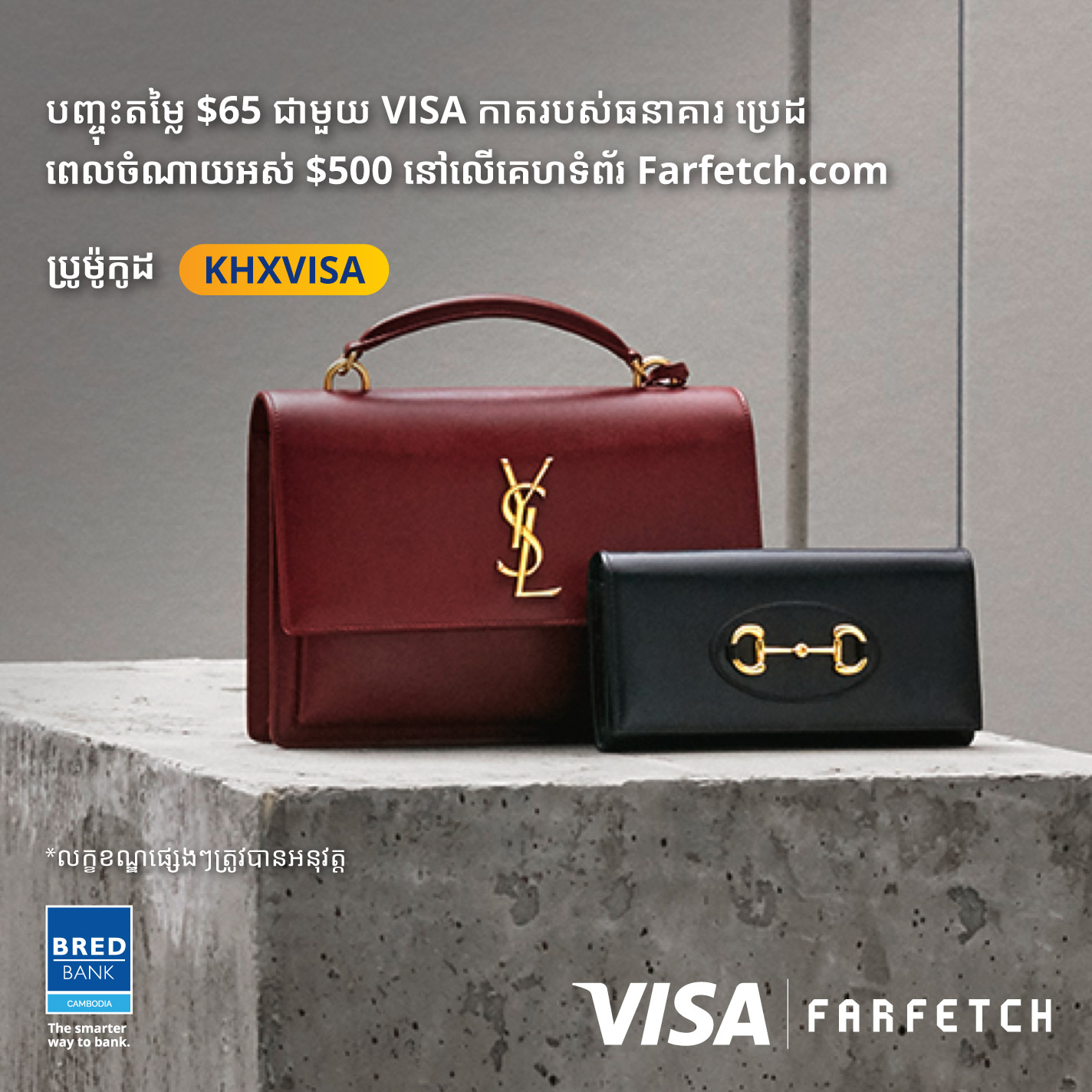 $65 OFF at Farfetch
Shop your favourite style from streetwear to evening dress at farfetch.com and enjoy a special discount of $65 off when you spend $500. Just enter the promotion code KHXVISA when you check out with your BRED Bank VISA card.

Valid until 31/12/21. Terms and conditions apply.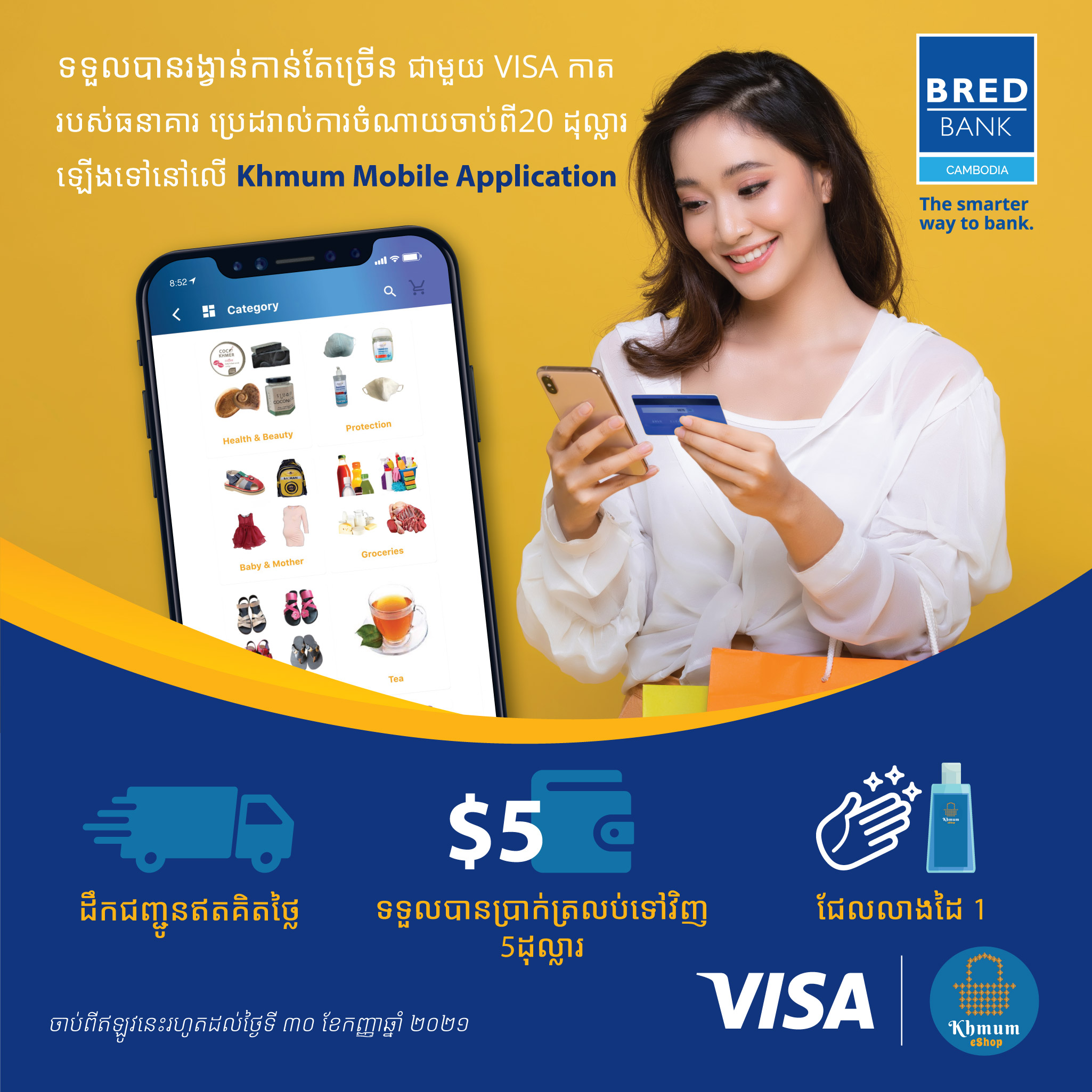 Amazing 3 with Khmum Mobile App
Amazing 3! Get a $5 credit, FREE delivery, and hand sanitizer when you shop on the Khmum app. To enjoy this great "Amazing 3" deal, spend a minimum of $20 using your BRED Bank VISA card.

Valid until 30/09/21. Terms and conditions apply.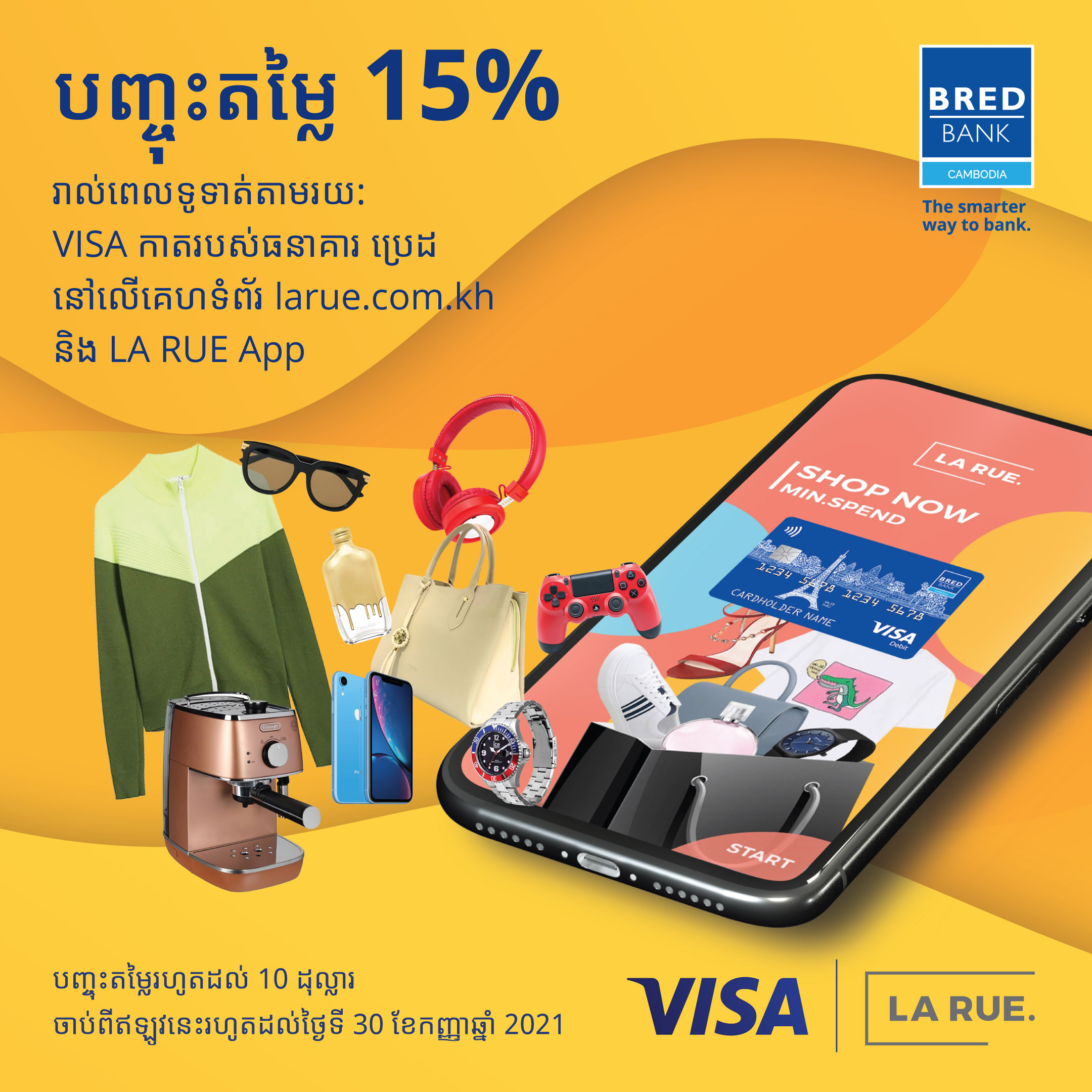 15% OFF at LA RUE
Buy more, pay less! Enjoy a 15% discount when you spend a minimum of $20 on fashion, cosmetics, gadgets, home decor & more at LA RUE using your BRED Bank VISA card.

Valid until 30/09/21. Terms and conditions apply.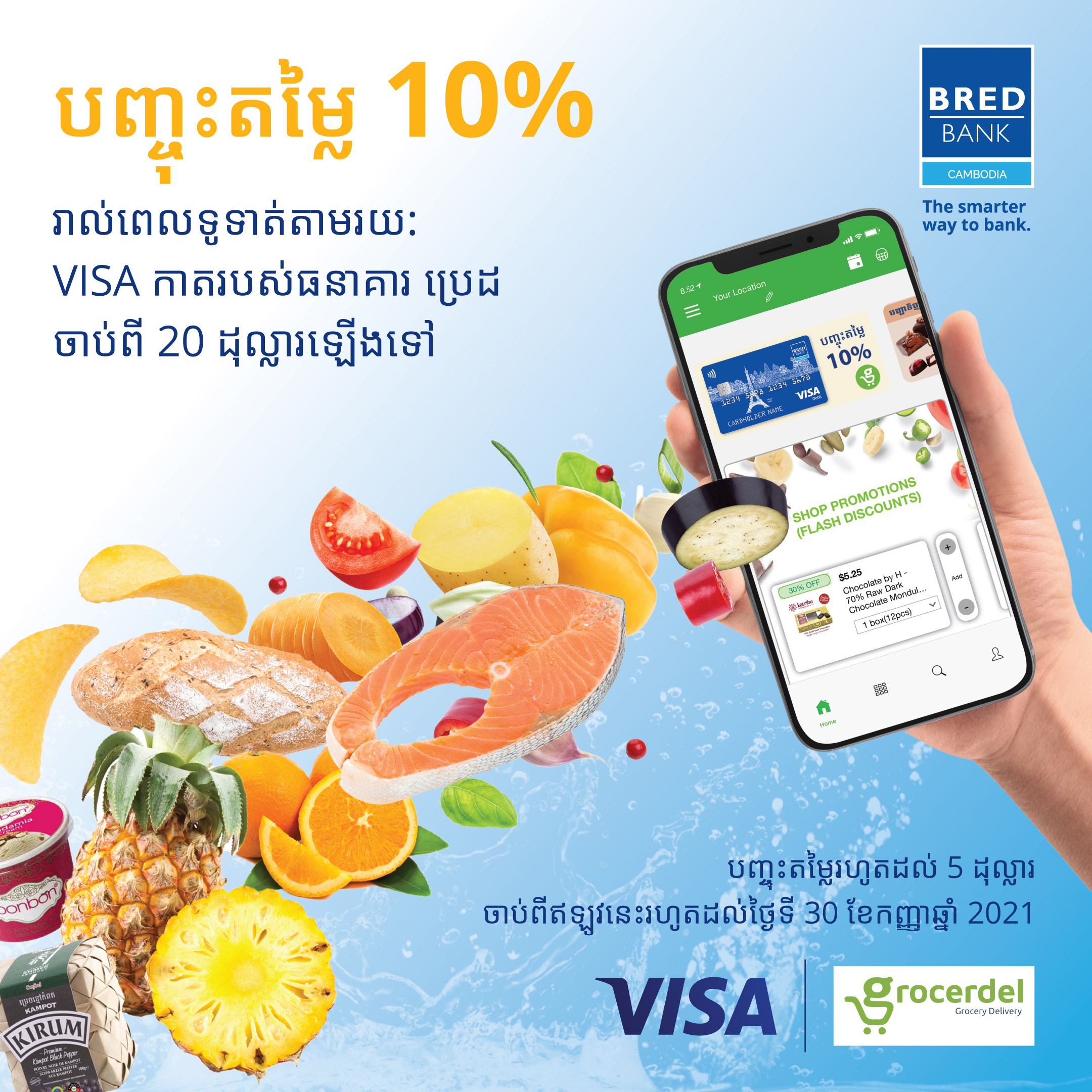 10% OFF at GROCERDEL
Stock up your kitchen with 10% OFF from Grocerdel. To enjoy this great deal, spend $20 or more at Grocerdel using your BRED Bank VISA card.

Valid until 30/09/21. Terms and conditions apply.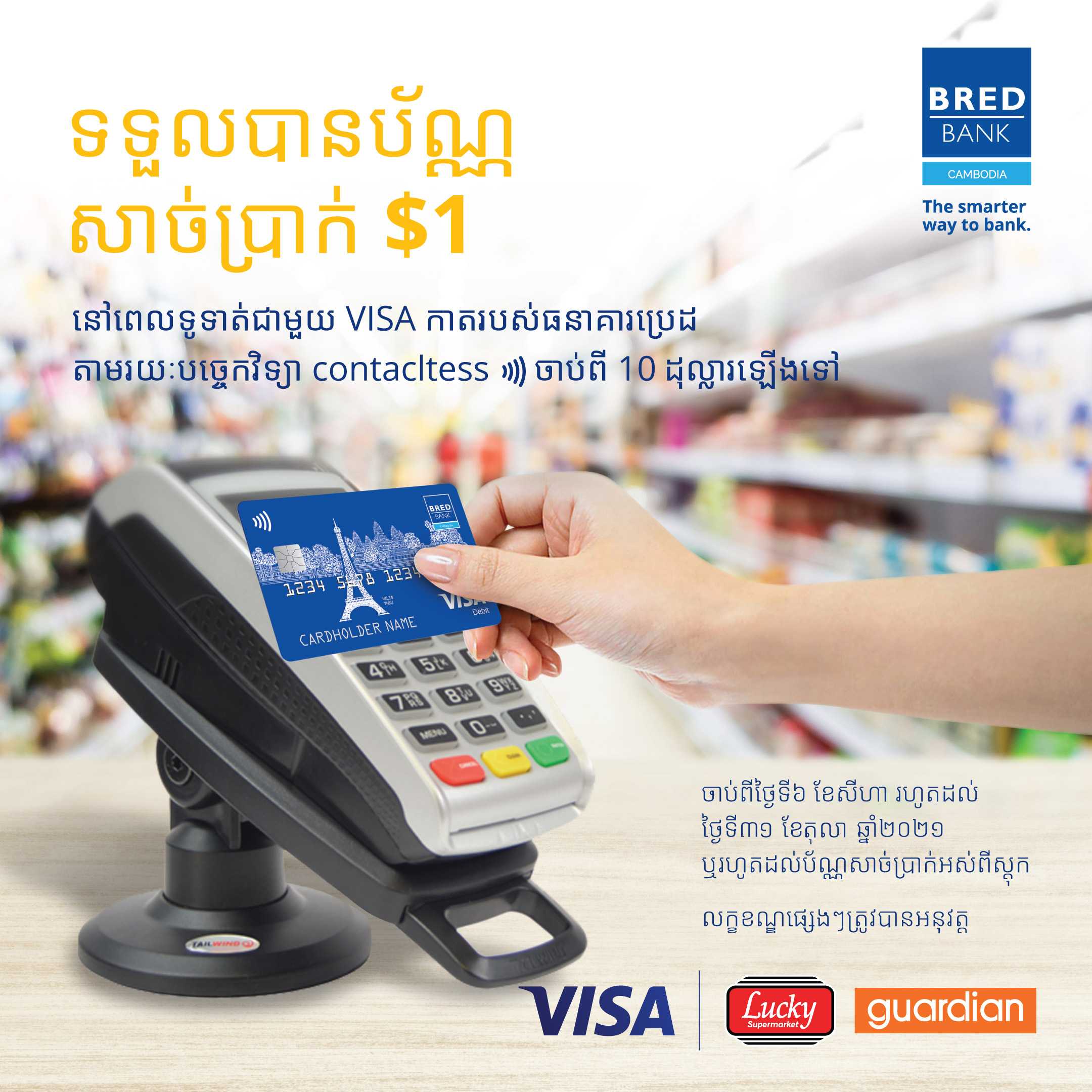 GET $1 CASH BACK from LUCKY Supermarket and GUARDIAN Store
Just tap for a dollar! Use your BRED Bank VISA contactless to pay a minimum of $10 at any Lucky supermarket or Guardian store and receive a cash voucher for $1. 

Valid until 31/10/21. Terms and conditions apply.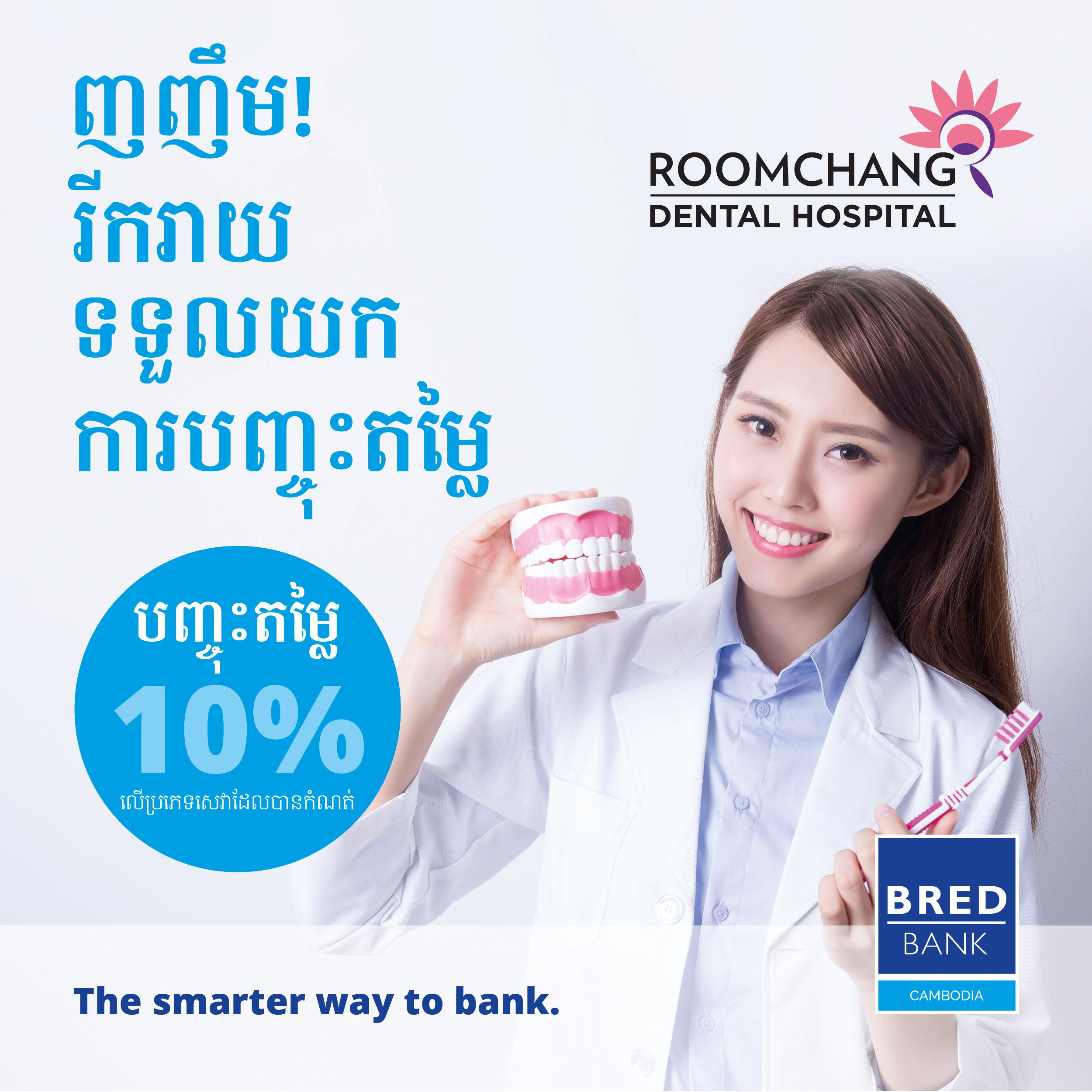 SAVE 10% on selected services
We're delighted to announce a great new partnership with Roomchang Dental Clinic – one of the Kingdom's top dental practices. Just show your BRED Bank card to receive a FREE check-up, FREE oral health education and a 10% discount on cleaning and polishing, X-rays and teeth whitening services.

To book your appointment, visit roomchang.com